Well hello there!
I hope you are well on this Full Moon?
This Monday, the 21st of January, the Sun moves into Aquarius, and Luna is full in Leo. That's not enough? Why not an eclipse?
Of course, I do what I always do on highly sensitive dates like eclipses and mercury retrogrades… I'm going in for surgery. Nothing major, just a little check up from the neck up. Sinus stuff. Apparently breathing has been an option for the last few years.
I sell and buy houses in Retrograde. Sit in planes for 25 hours. Give birth. Ya know, nothing major. I guess I like to fly in the face of reason. I encourage you to do so as well. Maybe next time I'll come back as another sign and be sensible? But then again, no. Being a Scorpio is just too dangerous to give up.
Anyway, Wild One, my message is, go with the call of your heart. It's not always possible to avoid life while the heavens stir magic.
Numerology Correspondence : 7 – The Mysterious Feminine, Chaos, Dreams, Intuition, Evolution.
For those connected to the rhythms of the planets and moon, January's Full Moon Eclipse in Leo comes with a whole basket full of mixed emotions.
One one hand, you may be felling quite on top of the world, new ideas popping into your awareness, joyful and optimistic. On the other, there may be that inner critic which threatens to overthrow the best laid plans.
If you are feeling the chaos, don't fret! The mysterious feminine under the influence of the moon and the number 7, Aquarius rising and an eclipse to heighten things into a froth; is here to inspire.
From the irrationality of 7 rises possibility. It is a disruptor which allows for growth. Luna is full after another cycle of traversing the heavens.
What will you birth under her light?
Will you honor your heart and your soul call?
Will you flow with the energy that is right now calling you to step up for yourself as 2019 unfolds?
This IS the time. You know it in your bones.
That high-vibration sensation you feel when you honor who you are as a Starseed, a channel of Universal energy, is the resonance of knowing you are on the right path.
Namaste Wild One. Let's howl at the moon.
A little more… via Tula Fae Astrology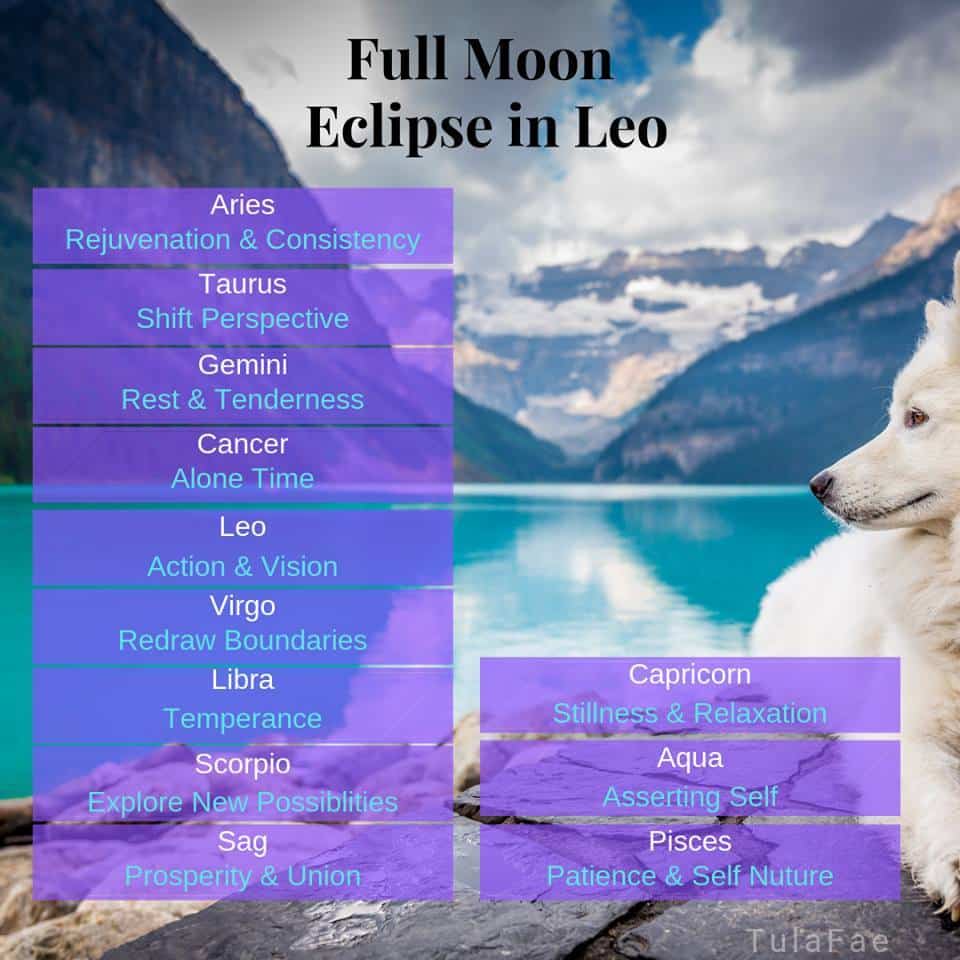 Full Moon, Wolf Spirit, Blood Eclipse… so many adjectives and so much hype! Haha! It is exciting to see more people get passionate about the moon. No doubt this one is powerful. This moon is deep – be gentle with yourself. Prepare accordingly by being mindful of your energy and your sensitivity. Here is a little tidbit. More on the way!
Here are your correspondences for the Full Moon Eclipse. The crystal and essential oil companions for this full moon are powerful in calibrating your electromagnetic energy field to attune your mind, body, and soul to be a clear signal and magnet for your intentions to manifest.
Take time to yourself in honor of the moon. Write your heart's desire in the form of goals that you wish to see in 6 months time. If you have these crystals and essential oils handy; use them to focus in and visualize your goals.
Use the crystals as per usual. Maybe try them in a crystal grid or bring them along in a meditation or bath.
Anoint yourself with this blend of essential oils imbued with the essence of your intentions. Simply speak your intentions in the presence of your oils. The nourishing properties of the essential oils, that coordinate with this specific moon, will soothe limiting beliefs and undeserving patterns on a cellular level. Use this blend at any time to remember and reinvigorate your intention set on this Full Moon.
– With Love, TulaFae
<3 <3 <3
Intuitive Coaching for the Wild Soul Here
Find out more about this trio of erotic occultism here