Wise Woman Mystery School
& Dark Moon Circle 2024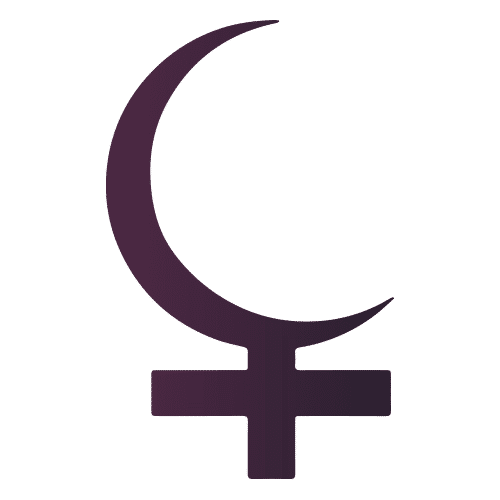 The Dark Moon is the most potent time of the lunar cycle
It is the time of the Crone – the Wise Woman who dwells within us all
In 2024, our Sacred Dark Moon Circle is being expanded to include my entire Wise Woman Mystery School course! We'll follow the Wheel of the year, initiate or deepen your Wise Woman Path, and sink into 12 months of dedicated lunar/witchery practice. for wildlings, mystics, earthkeepers and witches. 
 is this for you? Book a Discovery Call

During Our Dark Moon Sacred Pause Together We Endeavor To…
Release Habits and Thought Forms That No Longer Serve the Soul
• • •
Release Unhealthy Heart Tethers
• • •
Rest in the Previous Lunar Cycle's Wisdom
• • •
Compost Trauma
• • •
Build Solid Ground for New Dream Seeds
• • •
Work with Dark Goddesses
• • •
Witness Our Human Journey
Tap into Gratitude and Abundance
• • •
Drop Unrealistic Expectations of Ourselves
• • •
Become Friends with Impermanence
• • •
Remember Past or Future Incarnations
• • •
Engage With Desire
• • •
Work with the Root and Earth Star Chakra
• • •
And so much more!
A sacred Sisterhood
Why Circle?
A women's circle is an opportunity to build community and embrace personal empowerment within safe, loving connections
It is a sacred container where we may heal sister, witch, mother and patriarchy wound through shared stories and space-holding for each other
The circle is where we can re-wild the soul through understanding ourselves as sovereign beings and follow the natural cycles of the cosmos and nature
It is a place to be seen, heard and witnessed
It is a way for us to support all the women in the world through intention and being present to ourselves. The ripple effects of this are entirely magical!
The circle supports YOU, Creatress Goddess, Earth Mother and the Four Divine Feminine Archetypes – Maiden, Mother, Wild Woman, Wise Woman
We have been meeting in circle for centuries, embracing our shadows and spreading light to the Consciousness. Although our light has been dimmed and our sovereignty stripped through different forms of oppression over the years, in circle, we claim back to ourselves the ability to tap into wholeness and purpose
 Did You Know?
*Dark Moon refers to the period when the moon is in conjunction with the Sun and the Earth and is invisible to the naked eye
*Wise Women who work with the Dark Moon for spell-work, engage with this energy for banishments, or no magic at all
*They cast dream seeds when the first crescent appears in the sky, a day or two after Dark Moon
*The Dark Moon is associated with stillness and wisdom. It is the void in which we rest, reflect, compost
and transform knowledge into wisdom. It is the Alchemist's moon
*Modern astrology and Astronomy call the dark moon  'new moon'. Here we will work with Crone energy until
the first crescent  (Maiden Moon) appears in the sky

Is it time for you to be part of a sacred wise woman community?
Say Yes & Receive
Circle membership for 13 moons & My Full One Year Wise Woman Course shared each month
A circle orientation pdf upon sign-up – what you can expect and my commitment to you
A post-circle email with our call recording & Circle Notes
A Private group for 'between calls' community
Occasional guest teachers
Discount on private 0ne-on-one sessions with me
Jessica Crow, Unrestricted Life Coach/Body Wellness

I have been working with Monika & Dark Moon for 6 months- WOW, it seems like so much longer – it feels as if she's been part of my life for years. It's like that when you connect and work with someone your Soul is pointing you to. The way that she teaches, guides and encourages is like nothing I've experienced before. Even with her life on Vancouver Island and mine in Memphis, TN I can feel her presence with me. Encouraging me to listen to, embrace and act on the parts I have kept hidden for so long. There is a loving kindness about Monika that is evidence of her connection with Patchamama and the Moon. Her femininity is beautiful AND fierce. She is filled with so much wisdom, it pours forth and brings me hope that I too will one day be able to love, share and teach in a similar manner.
Monika is a powerful Wise Woman, who leads with compassion, empathy, grace and humility. She doesn't sit on a pedestal like a guru, but lives in the trenches with us, tilling her own soil. She brings her walls down and is vulnerable along with everyone in Circle; it is the safest group space I have ever been in. I much prefer one-on-one mentorship, but our Dark Moon Circle has been a potent portal and sacred mirror. It's the best 'yes' I've said in a long time. Thank you and I love you, sister!
 _ Join the Circle, 13 Moons _
     $197 USD Per Month,  OR , save with a $2,100 USD One Time Payment
Not sure if this is for you?
Details
~We meet once a month at the Dark Moon dates via Zoom
~ All calls are recorded for attendees and those who are not able to make a particular session
~ ALL CALLS ARE 11 A.M. PACIFIC
~If Dark Moon falls on the weekend, we meet on the Friday before
~Canadian Moon-Mystics receive at CDN currency. Please message [email protected] for special link.
Circle Dates 2024
January 11th
February 9th
March 8th
April 8th
May 8th
June 6th
July 5th
August 2nd
September 3rd
October 2nd
November 1st & 29th
December 30th
Join Our Community!
This is for you if…
You're looking for supportive community on the wise woman path
You're ready to lead your soul to remembering her wholeness
You're inspired to explore shadow work
You're intrigued by the natural forces and archetypes that govern your life
You're awakening to a call for deeper self-knowledge and wisdom
See you at the Circle!