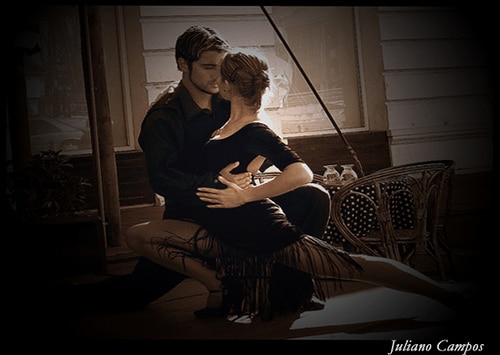 "I heard you say that it was time to go, that the night had brought new visions for your journey, but I think that your soul had long harbored an intention for flight. You picked the perfect moment to say goodbye—I was still soft with ecstasy and my heart opened wide by your skillful romance.
You've always know how to crack me open like a Joe-Pop-Eye seed that when caressed just right with the fingertips spills itself onto the world with hopeful enthusiasm for the soil it might discover.
The moment you noticed the flicker of pain in my eyes, your handsome face and devastating presence slipped for my world like a shooting star moving through the heavens, always too fleeting an experience to hang on to.
For many days I sat at the edge of my bed, trying to re-capture the feel of your skin on mine, the burn of your lips on my breasts, the expert way you had of rolling my nipples with your tongue—these things brought insanity to my door, knocking so loudly that I had to let her in. She stayed for months and months on end, playing with my memories like a harpist who just cannot leave her instrument aside.
And now your words burn into my hands as I hold them trembling, each syllable of your confession a strike of an anvil against its intended work of art. Am I your work of art, the thing you knead and mold to your pleasure until I am just what you need me to be?
Because if you want to, I am willing to lay myself down for your pleasure, to allow what you need, to be cast into a form that gives rise to those moans that made me fall apart in your arms.
I am still so weak. Is it because what you have is what I need or because your love for me, when you are here, melts the core of my resolve? Or is it because of that moment when I first fell into your slate blue eyes and drowned in what was reflected there?"
excerpt – elephant journal – monika carless – http://www.elephantjournal.com/2015/05/a-love-letter-the-road-to-you-adult/
image: julianocampos